Sailing programme
(… as originally planned)
The Platu 25 fleet - M&Marine - St Petersburg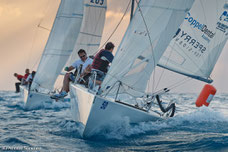 Wednesday 8th June
Hand-over of the boats for the early crews. (A couple of teams did practice: the ones who eventually finished 1st and 2nd Skolkovo and Insead)
Thursday 9th June
15h00 start of the practice race. 1, 2 or 3 races to follow (windward-leeward). Unfortunately this had to be cancelled. The good point is that it was cancelled early so that participants had a full day free for visiting before the evening game and dinner)
Evening/night : Crew Dinner 
Friday 10th June

Whole day:  structured passage races ... possibly mixed with technical races (windward-leeward).
5 races done, within the protected area close to the marina. Shifty winds, some current… tactical and fun. A good start was essential.
Evening/night : Crew Dinner 
Saturday 11th June

Whole day: technical races (windward-leeward) 

End of the afternoon (after the races): Return/checkout of the boats.
All boats motored out, past the bridge toward the Gulf of Finland. But the wind went up to 30+ knots when we arrived on the starting zone. The Platu 25 proved much too light for this sort of wind. Just one Jib (and no mainsail) was enough to get knocked down by the gusts. Races cancelled after all boats had returned safely around 1pm.
Evening/night: prize giving dinner .