2002 - La Rochelle (France)
Organized by INSEAD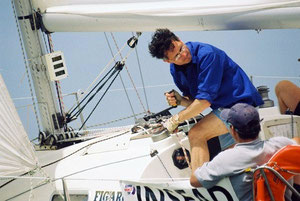 Overall Winners: the INSEAD alumni captained by Armando d'Amico

Organisers: Brigitte & Marc Le Borgne (INSEAD) - Christine Briand
Boats: Figaro Beneteau 30' - Rivages

Stories:

On shore contest, and cocktails at the Maritime Museum.
Gala dinner at the Aquarium. Splendid sunset over the ancient city, intense quizz contest, nice Jazz music.
Significant margin for improvement on the breakfast side... The ABCup has done much better with the croissants since then.
La Rochelle a great city on the night of the "Fête de la Musique".
The alumni from IMPERIAL, captained by Calum Sillars, were looking very elegant (and fair play) in their French flagged Rugby shirt.