2011 - Venice
organised by MIP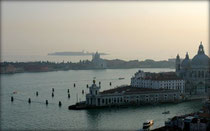 Overall Winners: LBS, captained by Rob Coterill and Klaus Rasmussen.
Winners of the onshore games: IMD, captained by Nao Hasumi.
Results
And the winner is: 
The official winning team of this 19th ABCup is the LBS team captained by Klaus Rasmussen and coached by Rob Cotterill. 
On a side note, a bit of archeology reveals that:
INSEAD Maarten de Vries is the skipper with largest number of participations in the ABCup (17 participations including 2 wins).
IMD's Michael Ring/Preben Westdam/Martti Malka/Nao Hasumi have together totaled the largest number of victories (2004, 2006, 2008 and 2009), i.e. 4 wins over a total of 11 participations.
The two Institutions having collected the highest number of victories are INSEAD and CRANFIELD (6 each), followed by IMD (4 wins).
LBS Rob's team achieves the best average ranking (2.0th average over 6 participations).
the 20th anniversary in 2012: The plan is to make sure that as many of the historical participants join for the anniversary. Cranfield (25 participations), Bocconi (20 participations), Warwick, Imperial and Kingston are eagerly awaited.
More than ever, there will be no compromise on the key features: intense one-design racing and joyful companionship!