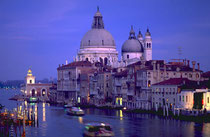 Onshore: 
The Wednesday welcome cocktail and dinner party took place on La Certosa Island, where the boats where moored. A quiet and relaxing place, ideal to rest after the journey through vibrant Venice.
The Thursday night party and games, were also held in La Certosa. The onshore contest, presented in great details  by a dedicated MIP team,involved cooking a "finger food" meal in 45 minutes and giving a presentation on a theme of travel & exploration, a tribute to Marco Polo's legendary life.  IMD scored first place, with a presentation involving an elephant, a princess and a hilarious Bollywood like choreography. LBS came third, cleverly dressed up as astronauts, while Insead 1 could only manage 6th and Columbia were relegated down the field with 12th.
Friday evening was a free evening, which most teams used to have crew dinners in Venice. A free shuttle was conveniently available upon request to come back to the Island.
The prize giving dinner took place on the terrace in another area of the Island. A very congenial moment, as usual, enabling crews to get better acquainted without the pressure of competition. 
Many conversations revolved around the best venue for the next year Alumni BUsiness Cup which will be the 20th edition, one not to be missed!