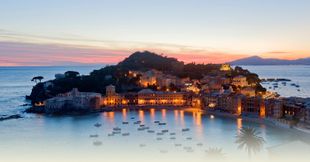 St Petersburg in 2016 was a splendid event. Challenging wind conditions triggered a balancing exercise between museum visits and competitive sailing. (for a detailed report go to 2016)
for the 2017 and 25th (!) edition, we have elected to travel 2000 km further south to the Italian Riviera in Sestri Levante and Chiavari, where a nice one-design fleet of J80s is waiting for us, a few nautic miles from iconic Portofino. 
After the races, the participants will enjoy the « Dolce Vita » in a charming 4* hotel located a few meters from the romantic Baia del Silenzio.
From Portofino, Santa Margherita, Chiavari, Sestri Levante, all the way to the National Park of Cinque Terre...  you are invited to discover, outside the busy holiday period, the wonders of the Ligurian Coast.
The ABCup Regatta is faithful to its uncompromising format of three full days of competitive sailing. Boats will be available for practice on Wednesday. The prize giving dinner will take place on Saturday night and, as usual, will joyfully illustrate the ABCup motto: "friendship, glory and fun!"