Organised by INSEAD and HEC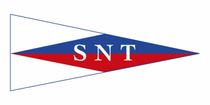 Regatta supervised by SNT
(Société Nautique de La-Trinité-sur-mer)
Race manager : GIlles BRICOUT
Jury : Claude Petit
Winners: LBS alumni captained by Rob Cotteril and Klaus Rasmussen.
2nd: IMD alumni, captained by Nao Hasumi and Marti Malka.
3rd: INSEAD (captained by Maarten de Vries)
Winners of the sailing races: IMD 
Winners of the onshore contests: LBS alumni (Rob & Klaus)
Rankings and Analysis -  Last year (2011), IMD had stolen the silver from Maarten de Vries thanks to their outstanding stage act. This year, it was LBS who stoled gold from IMD the same way, though intensive and hilarious use of the Royals in their Breton dancing act... a repetition of their 2010 performance in LA Ciotat, when their clever 'Petit Prince meets the King' act enabled them to fight WU off the top step. 
Clearly this 20th ABcup concludes (or not!) an amazing cycle for LBS in this regatta. It started in 2006 (Porquerolles) when Rob and his team took an observer seat and finished 4th for their 1st participation. Then there was a series of 3 silvers until they caught gold in 2010 (La Ciotat) a position which they have been able to keep until today ie. 3 years in a row.
A bit of archeology shows that with 8 podiums each since the origin of the regatta, IMD (Nao, Martti, Michael etc.) and INSEAD Maarten de Vries lead the statistics. Maarten however dominates by the number of caps with an amazing 18 participations. 
One last look at the 2012 result table above shows that a good number of crews had their opportunity to shine. Each one of the 5 top ranking crews scored at least one win. This tells that the coming 2013 edition in Marseille will, as usual, be hard fought on the water... and ashore.