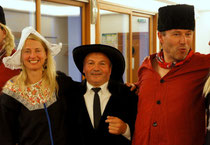 Onshore - The practice day on Wednesday ended with the ritual get together cocktail which took place «à l'Etage», the Yacht Club bar overlooking the Marina. 
Thursday was a «Breton» evening & night. It started with a visit to the «Géant du Manio». A couple of young pipe players set the tone for a brief circle dance around this impressive  (5m high) megalith standing at the center of a woodland clearing. 
The cocktail and dinner were held next to the sea in a remote area of the Baie de Quiberon. Again, Breton dancing was the theme. Half a dozen dancers with local costumes helped the participants to rehearse for the dinner presentation game. All this was done on a sunbathed terrace surrounded by the high tide an not too far from champagne, wine and useful nibbles. As usual the highlight was the costume dance contest. Some of the presentations didn't meet the jury's local culture, however, despite the language barrier, the LBS team scored a win making full use of a metaphoric act featuring the Royal family. Maarten de Vries' Insead team had worked quite seriously on their costumes and deserved their 2nd place. The whole night was rather musical and celtic, thanks to the local dancers who were quite convincing and brought everyone on stage for some hilarious line dancing.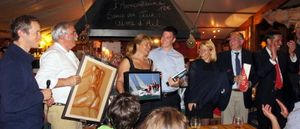 On Friday, the onshore game was a quizz based on Trac-Trac replays of the races of the day. The Trac-trac system sponsored by Sopra worked nicely and enabled Ugo Alvazzi (MIP) to present highlights of the day. Starting lines and buoy roundings were especially fun to watch and guessing who had done what required good observation skills. Oysters served on the club terrace with canapés and an excellent white wine were much appreciated after this demanding racing day with a solid 25 knots breeze.
The prize ceremony was held on Saturday at Jaouen's an oyster farm next to the river of La Trinité sur mer. Generous seafood, Mumm champagne, loads of prizes including local goodies and 2 nicely framed photo for each crew, made for a joyful closing of this 20th ABCup regatta.