1999 - Cowes (England)
CRANFIELD
Organisers: Alumni of the Cranfield Institute of Management : Rob Lambert, Paddy Caiger-Smith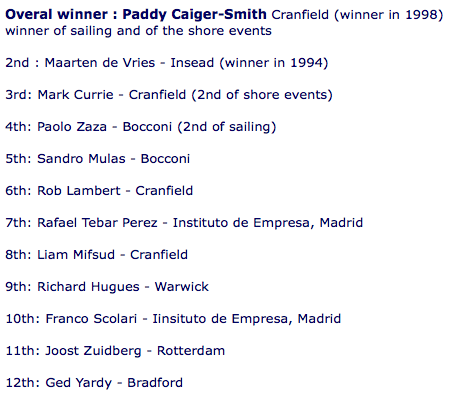 SAILING PROGRAMME :

Thursday :  Registration, Practice race, victualling

Friday : 3 races, last leg to end at the entrance of the Hamble river (mooring at Port Hamble)

Saturday: 2 races, berth at East Cowes.

Sunday : 1 race back to Port Solent

Supervision : Portsmouth Harbour Yacht Club

Boats : Sun Fast 36 (Jeanneau) chartered by Sunsail

SHORE EVENTS :

Thursday : Champaign reception on board Warrior, a 19th century warship and british dance competition.

Friday : Gala Dinner at the Royal Air Force Yacht Club, yacht modeling competition.

Saturday : at East Cowes : Cook-on-board competition, lighthouse building competition.

Sunday : Prize giving lunch

STORIES :

The lighthouse models were tested for stability against Mrs Caiger-Smith hair dryer... challenging!

No serious hang-over was reported following the Cook-on-Board competition, yet some of the meals served were exotic and spicy!

The key question during the Sunday prize giving lunch was : "will the poular pressure applied on the alumni from Bocconi strong enough for them to produce the long awaited first Mediterranean edition of the ABCup?".