2010 - Cassis - La Ciotat (France)
Organised by INSEAD & HEC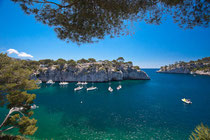 Overall Winner: LBS (Rob Coterill / Klaus Rasmussen) – 2nd of sailing series
Winner of the sailing series: WU (Stefan Luger)
Winner of the onshore games: MIP (Paolo Sito) – 3rd of sailing series.
Organisers: Marc Le Borgne (INSEAD), Philippe Lerique (HEC MBA)
Results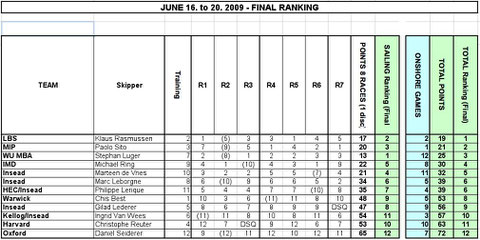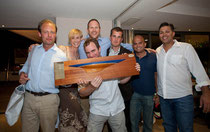 And the winner is: 

The official winning team of this 18th ABCup is the LBS team captained by Klaus Rasmussen and coached by Rob Cotterill.
Their clever stage performance of the "King" on Thursday enabled them to take the title off the hands of the WU team (Stefan Luger) who won the sailing series, WU also had to let MIP get the silver, another tribute to the onshore games. Obviously this leads to the ritual question of the sensitivity of the overall ranking to the on-shore compartment of the regatta. One observation here is that the podium of the sailing series (WU, LBS, MIP) has the same as the overall albeit in a different order. However one cannot ignore that, had INSEAD MdV performed on shore as well as last year (3rd instead of 10th this year), they would have reached to the podium pushing WU from 1st in sailing further to 4th overall.
Going forward, there will be some debate among the organizers and the (informal) skippers advisory group on how to maintain/improve the balance between fun and competition, between creativity and objectivity.
On a side note, a bit of archeology reveals that:

INSEAD Maarten de Vries is the skipper with largest number of participations in the ABCup (16 participations including 2 wins)
IMD's Michael Ring/Preben Westdam/Martti Malka have together totaled the largest number of victories (2004, 2006, 2008 and 2009)
LBS's Klaus and Rob together achieve the best average ranking (2.5th average over 5 participations).