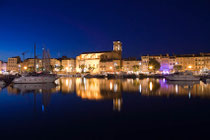 Onshore: 

The Wednesday welcome cocktail and dinner party took place in the spectacular Calanque de Figuerolles. The place is a narrow creek hidden behind the immense cliffs of Cap Canaille, the restaurant overlook a tiny beach and mooring and is truly an End-of-the-World type of spot. Exquisite local and yet sophisticated food, lovely view, it was the perfect setting for bringing all participants together. 
The Thursday night party was held right on the old marina of La Ciotat in the recently renovated Yacht Club restaurant. 
The onshore games were a tribute to Antoine de St Exupery, the French aviator, dandy and writer, who crashed a couple of miles away from La Ciotat during a fatal observation mission during WW2.
The 1st onshore game consisted in building and flying a model from the terrace of the Yacht Club. Interestingly, the engineers within the MIP (P in MIP stands for Politecnico!) outperformed the other teams with the longest flight (in the right direction, which was essential to the ranking). 
The 2nd onshore game was the ritual team presentation. This time, the theme was slightly more challenging than in previous years, as teams had to present one of the 'encounters' which the Little Prince experiences in the famous St-Exupery's novel. We had a festival of creative stage performances. Some, as Warwick, were based on the acting skills of one (the drinker portrayed by Panos was quite a show!), others had a more subtle approach such as LBS who decided that the "king" had to be Elvis Presley, impersonated by a very convincing Biral. Finally it was MIP who scored best thanks to an impressive teamwork and a well prepared video background. Paolo and his team introduced us (and the Little Prince') to a very humorous Planet Italia where all singers aren't Pavarotti, and cars not all Ferraris ... 
The Yacht Club turned out to be a nice place to end the night and many stayed and danced there long after the dinner.
Friday evening was in Cassis. The crews gathered for a buffet cocktail at the Yacht Club de Cassis on the Marina. Some took their boat back to La Ciotat immediately after, while the bravest enjoyed dinner in one of the restaurants of this charming meridional harbour before sailing back under the moon and the stars.
The prize giving dinner took place on the terrace of the Best Western Hotel, overlooking the harbour. Fernando Algarvio, the regatta photographer displayed his first selection of the 4,000 photos taken during these three days. He playfully included a last year photo of IMD's foredeck (namely Preben) which tells how much good a healthy diet (an a persuasive spouse) can do to your profile in just one year. Finally Champagne Mumm Cordon Rouge in the glasses and beautiful Stelton Danish tableware on the prize podium gave the elegant final touch to our friendly gathering.