2005 - Les Embiez (French Riviera)
Organized by SDA Bocconi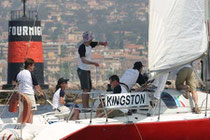 Overall Winner: the INSEAD team captained by Marteen de Vries.

Organisers: Nicky La Touche, Vittore Rizzi (Bocconi)
Maarten and his crew have participated in each ABC but one since the origin in 1992. If our accounting is correct, this is their 2nd victory. The last time Marteen and his crew (INSEAD MBAS 89) climbed the highest step was in 1994. They however rarely missed the podium with no less than silver medals so far. Marteen and his Insead colleagues now belong to the exclusive club of the twice-winners (Colin Sidmons, Chris Preston, Paddy Caiger-Smith, and Armando d'Amico), and will be challenged next year to become the first ever team to own 3 victories.

The IMD team, captained by Preben Vestdam and Marti Malka were only a couple of points away from renewing their last year's performance (overall winner in 2004). Interestingly both INSEAD and IMD scored equally well in the onshore games.

The battle for the 3rd position was fierce. Imperial (Calum Sillars) maintained his lead over INSEAD (Laurent Fillat) and LBS ( Howard Farbrother) only through an exhilarating crew presentation making full use of the Union Jack.

Guy Le Pechon and his INSEAD Team led the rest of the fleet while Rotterdam, Kingston, Bocconi and HEC battled to get the wooden spoon, eventually conquered by Paul Joubert and his HEC MBA team.

Despite the modest weighting, the position in the on-shore games influenced the overall ranking of 5 crews.

One will also note that discarding the worst race only impacted the sailing ranking of the 1st and 2nd teams.