1996 - La Trinité sur Mer (Brittany, France)
INSEAD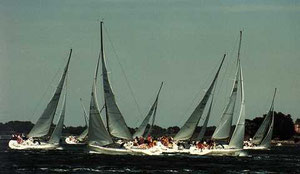 Overall Winners:  Colin Simmonds - Cranfield (2nd in 1994 and winner in 1995 - first crew to have won twice)

Organisers: Brigitte & Marc LE BORGNE (INSEAD)
Sailing:

Friday : Olympic triangles in Baie de Quiberon
Saturday (sunny - 15 knts) : 1st leg La-Trinité / Crouesty (entry of Golfe du Morbihan) - 2nd leg Crouesty/Vannes (up the Vannes river)

Sunday (sunny - 10 up 20 knts): 1st leg Vannes / Crouesty - 2nd leg around Houat and back to La-Trinité.

Supervision : SNT, Société Nautique de La-Trinité-sur-mer

race manager : Jean-Paul Valléguant

Chairman of the Jury: Jean Le Corvec

Boats : JOD 35 (Jeanneau) Atlantique Temps Réel

During the 1st leg on Saturday, the committee boat, while focusing on other issues, crashed into Olivier Fuchs' boat. The mast broke. Another JOD 35 was provided by Atlantique Temps Réel in time for the 2nd leg to Vannes.
On the last leg toward La Trinité-mer Olivier Fuchs (again) blows his red spinnaker (although wind was moderate).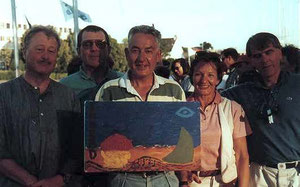 Onshore:

Gala dinner in La Trinité on Friday night in an oyster farm (Jaouen). Montbazillac Chateau Le Fagé served (cooled) as apéritif, sunset on the La-Trinité river.

Art painting contest , Saturday night on the marina of Vannes - Artistic talents being encouraged by a Mumm champaign elegantly served in the open under a glorious sun.

Stories:

All the crews were taken onboard "Le Trinitain" up the river Crach to the Oyster farm "chez Jaouen.

First 100% internet entry in the history ABCup is from Joao Gomez (Lisboa). No fax, no telephone call. Only e-mails and Swift bank transfers were used!

On Saturday afternoon, a very relaxed, sometime hilarious display of mixed artistic talents during the painting contest.