1992 - Port la Forêt (Brittany, France) - the very 1st ABCup
INSEAD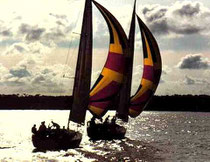 Overall Winners: the Insead Team captained by Olivier FUCHS (INSEAD)

Organisers: Brigitte & Marc Le Borgne (INSEAD), Daniel Roche (CPA), Thierry Jouve (CPA) , Alain Touveron (Insead), Benoit Declerck (CPA)
Boats: FIrst 35S5 

Sailing Programme: 

Friday : light wind, coastal course toward Bénodet

Saturday : 15 knots, long race near Les Glénans

Sunday : light wind, Olympic triangle

Supervision : DPYC - race manager : François Dupuy

Chairman of the Jury : José Le Fouler

Shore events: 

Putting contest on La Forêt Golf course on Friday evening

Optimist regatta near the marina on Saturday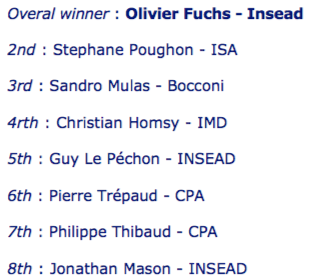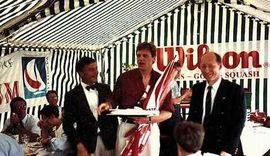 Stories: 

Protest between ISA and IMD, evidence that friendship doesn't exclude competition.

Bocconi crew mutined, sailed without the skipper on Saturday and won! The skipper was back onboard on Sunday with a cheering crew.

This first Alumni Business Cup has attracted top level sailors: Stéphane Poughon (above), a former winner of the Mini-transat single handed transatlantic race, sailed with his ISA (HEC MBA) companions but had to yield in front of a very motivated international Insead crew comprising not less than 5 nationalities.