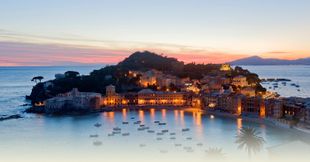 0nly 6 privileged and inspired crews made the trip to Sestri Levante. Surprisingly, Bocconi and MIP were this year on a cruising mood and declined to send their sailors on the starting line. Nicky Latouche, and Vittore Rizzi (SDA Bocconi) however joined for the last day to encourage the participants and remit the special prize to the crew which others love best because they finish after them, a tradition initiated by Bocconi back in the early years. 
At sea, we sailed on a very well maintained feet of J80s equipped with the full racing sail plan and electronics. Despite a shifty breeze, Anne Soizic (Blue Project) sent no less than 9 races including 3 passage races which took the fleet to Portofino.
Skolkovo again left little doubt about their determination to win, although LBS and INSEAD maintained good pressure until the last race. 
Onshore, the participants enjoyed the usual mix of fun and quality socializing in selected venues. Crew presentations on Thursday provided renewed evidence that MBA alumni are rarely short of creative and provocative ideas. In this exercise, the LBS fashion show and INSEAD (Maarten's) re-invented version of 'the Godgather' won the loudest acclaim.
The Due Mari Hotel provided an ideal setting for a good number of cocktails and dinners as well as impeccable 4*star accommodation a few meters from the romantic Baia del Silenzio.
The ABCup Regatta stayed faithful to its uncompromising format of three full days of competitive but civilized sailing ... and to its original motto: "friendship, glory and fun!".
STELTON and MOET & CHANDON, our Inspired and friendly sponsors, brought much appreciated glamour to the Prize Giving table and ceremony.