1997 - Cowes (England)
Organised by LBS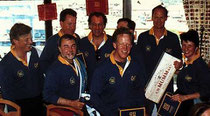 Overal winner : Christopher Preston - Cranfield (winner in 1993) second crew to have won twice after Colin Simmonds, also a Cranfield alumni).

2nd : Maarten de Vries - Insead (winner in 1994).
SAILING PROGRAMME 

Thursday :  Registration, Practice Sailing, victualling

Friday 3 races, last leg to end at the entrance of the Beaulieu river (mooring at Buckler's Hard)

Saturday: 3 races, last leg to end at Cowes (berthing at West Cowes).

Sunday : no wind motoring back to Port Solent

Supervision : Portsmouth Harbour Yacht Club

Boats : Sun Fast 36 (Jeanneau)

SHORE EVENTS:

Friday : Mixed Physical/cultural Challenge at Buckler's Hard - Champagne Mumm reception and buffet supper on board Kitty, a last century Thames sailing barge.

Saturday : Gala dinner in the sir Max Atkins Museum (Cowes), each crew gives a speech/song/poem.Splendid sailing up the Beaulieu river to Buckler's Hard, where Admiral Nelson used to have his warships built.

STORIES: 

Racing in view of the mythic silhouette of the Needles.

Can a Thames sailing barge accomodate for a 120 person? Yes!!!

Who is this Linda who had such a success during the Saturday night cabaret? A very convincing Museum manager was necessary to calm the enthusiasm down.

It took more than a few minutes for the non-UK crews to get used to the complex algebra of the numbered Solent racing buoys.

No wind on Sunday morning ... Yes you can swim in the Solent!