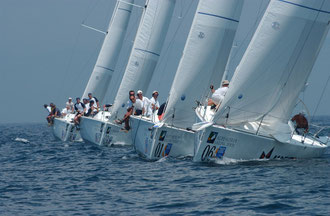 3 crews had decided to make the most of this Italian ABCup and started sailing from the Monday, cruising south to Slovenia and Croatia.

UK residents flew direct from Stanstead to Trieste at a reasonable cost on Ryanair. Most crews arrived on the Wednesday and were able to practice under the light breeze of Wednesday evening.
The handover of the Solaris 36 was one of the very best ones in the history of the ABCup thanks to Andrea De Cesco, the fleet director and to Edi Baldini, the efficient and smiling manager. The Solaris 36 immediately made a great impression, their racy look proved to be no cheat: the boats were making 4 knots in the very light 6 knots evening breeze.
On Thursday afternoon, a practice race was launched as soon as the wind made it possible. Practice was indeed useful as the asymetric spinnaker was a discovery to most of us and proved less easy to handle than we had assumed. A lot of "shrimping" took place.

All the courses were winward-leward, nicely balanced and oriented by Franco Franzese and Mauro Marussi. Some were disappointed, however, that no passage race could be organized. It is understood that this legitimate request will be addressed in the next edition.
IMD's victory is putting an end to the duet played by INSEAD and Cranfield which have been trusting all wins in the past 11 regattas. For the occasion Preben and Marti had invited Sandro Mulas of Bocconi (2nd in 2000) to come on board, a last minute hire which proved a smart move. Preben and his IMD crew have participated in each ABC since the origin in 1992 and this was a well deserved first victory.
Armando D'amico (INSEAD) almost made it for the 3rd time in a row. With 3 teams in the first 5 positions, the INSEAD alumni confirm their being ready for more. Imperial (4th) and Warwick (6th) have been serious candidates from the beginning.
Quite interestingly, the best ones at sea were also running the show onshore. Indeed, the 4 best ranking in the races were all among the 5 best performers in the onshore context (waltzing, the cocktail fabrication and the quizz). It's also worth noting that despite the modest weighting, the position in the on shore games influenced the overall ranking of 6 crews.