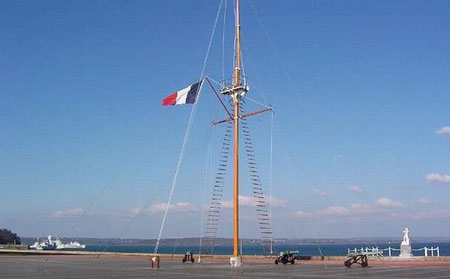 Despite UK airline corporate take-over frenzy, a 6hour train journey between Paris and Brest, a 1hour coach ride between Brest and Lanveoc, a 15mn ID check at the entrance gate ... everyone made it to Lanveoc Poulmic for the welcoming buffet dinner in the Borda Building, the officers restaurant overlooking the bay. Much less glamorous was the improvised Thursday pick-nick lunch based on the "rations beurk" (as some anonymous officers call them).

The organizers weren't expressed any serious negative views with respect to the military type of accommodation made available in the Bearn building. But no one expects the ABCup to deliver the 5-star comfort which we are all blasé about. The short distance between the bedrooms, the restaurant and the marina was apreciated.

The onshore contest, engineered by Capitaine de Corvette Bruno Cren, certainly was a highlight in the event. Each team had a 15 mn run on the state of the art navigation simulator build in 1998 for the Ecole Navale. The simulator features 3 command bridges all interconnected and centrally controlled so as to simulate any type of environment: Brest, Cherbourg, Nantes, you name it; you may steer an aircraft carrier or a stealth cruiser; fog, night, swell, tidal stream all these parameters can be adjusted. The realism of the 360° display was quite amazing, to the point where you might have to grab the rail when the ship starts rocking. It was intersting to watch the various teams organizing themselves to master this hi-tech environment. Some, with ex Navy officers in command, did it in a very organized manner, some others (the younger ones) were exploring each tool like they would have done with a video game and did obtain rather good results in this unconventionnal approach.
The introduction of the results of the onshore contests didn't alter the final ranking, Armando's teammates having efficiently combined poetic talent and navigation skills. As for last year Imperial is second overall , followed by Warwick who took over Insead's Maarten de Vries thanks to an impressive display of expertise in the navigation simulation game.