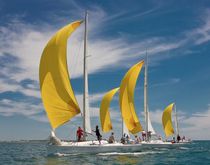 Sailing: The Baie d'Aigues Mortes is an excellent playground for sailing races and it was ideal for our regattas too.  The weather was ideal throughout the 4 days with reasonably stable winds, good temperatures, and sunny skies. Twelve races were sailed overall and the podium wasn't final until the very last leg to the finish.
Wednesday: Final day for the hand-over of the boats. Almost all the crews had a chance to get out of the marina for a bit of practice, much appreciated by those (the majority) for which the ABCup is the only regatta in the year. The sailing boats of our fleet, managed and maintained by TeamWinds, were in perfect condition with identical sails - a key feature in the ABCup one design format
Thursday: the practice race was launched at 10:30 with a good 20 knots westerly breeze blowing which prompted the less hardy sailors to reef in their mains. Three true races followed which showed that the leadership might be fought out between IMD, LBS and Columbia. None of them however won more than once during the day. The jury soon understood that things were being taken seriously when Columbia filed a winning protest against LBS. The 3 Insead crews and WU were not far behind, 2 of them having been able to get a third place once. At the other end of the fleet, no clear indication either…the last boat to finish was different each time; HEC, Warwick and Kingston were in for a good fight as well.
Friday: In similarly good sailing conditions, with a lighter breeze, no less than 5 races were sailed. The 3 leaders confirmed their domination over the rest of the fleet. Nevertheless, at the end of the day and after 7 races overall, the spread in points between the 1st (Columbia) and the 3rd (LBS) was only 4 points (over a total 438 points allocated). Clearly, the onshore games were now gaining some importance... even for the best sailors around.
Whilst the 4 Insead alumni teams were battling in the middle of the fleet, Kingston and HEC were able to leave (4 times)  Warwick with the task of closing off the finish line. 
Saturday: This was the day when the Insead team captained by Maarten de Vries decided to show what they were capable of. Indeed two 2nd places and two 1st places! Unfortunately it came too late to even threaten Michael Ring IMD's team which finished 1st,  followed by LBS and IMD. This ranking is also the final ABCup ranking since, despite the fact that none of the three teams did spectacularly well in the onshore games. It is to be put down in record that LBS made a noticeable effort to distinguish themselves on stage.