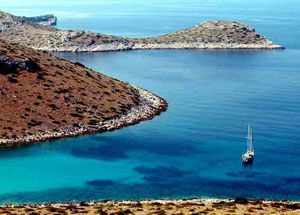 Onshore: The Wednesday dinner in Zut was nicely located in the marina restaurant overlooking a beautiful bay. The remote quietness of the place came with its price and some patience was required prior to enjoy the fresh sea food.
On Thursday night, the ancient city of Sibenik was all excited after having won against Germany in the Football Euro 2008. This didn't prevent all the participants to gather for a busy cocktail in a heart of the old disctrict. Each crew had to submit photos taken on the waterproof cameras offered by one of the Sponsors (the Sopra Group of Consulting). The appointed regatta photographer showed the video of the day...
On Friday, the ritual presentation dinner took place in the typical restaurant of M. Sladic in Skradin. Each crew had been given two names of Croatian origin and had to present these through a short act aimed to have the audience guess the selected name. The word Sabre gave way to some hilarious presentations from LBS and IMD including a very creative impersonification of R2D2 with 2 flashlights and a basin under a cloth. The evening ended with a joyful Croatian Choir and a lot of triumphant shouting from RSM alumni when Holland beat France in the Euro 2008.
Finally, LBS had the best score onshore and managed to save their 2nd rank overall, while IMD, with a 6th onshore made it to the top of the podium by just one point. WU finished 3rd overall only 3 points behind IMD and would have won without its oponents's determination and creativity onshore. A quick look to the results table shows that the impossibility to waive the result of the onshore contests in the overall ranking (whilst 2 of the 8 races could be abandonned) plays a key role in maintaining the ABCup's congenial profile and ensuring that the focus isn't entirely on racing performance. As usual, Champagne MUMM was in the glasses and on the prize table, bringing the French glamorous touch necessary to a glorious closing ceremony.