Sailing races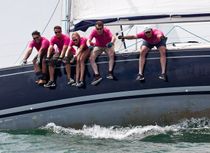 The sailing component of the Alumni Business Cup consists of 5 to 10 sailing races taking place in sheltered waters. The courses range from 2 to 10 miles and mix the excitement of challenging competition with the pleasure of sight seeing.

The boats (a one-design fleet of 7 to 15) are strictly identical and fully equipped racing yachts. Depending on the local availability, they are 25 to 40 feet in length. In all cases they offer the very valuable combination of user-friendliness and speed.

The races are supervised by an established local yacht club and, whenever possible, attended by a jury certified by the ISAF.