Participants in the Alumni Business Cup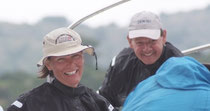 Created in 1992 by alumni from INSEAD, the Alumni Business Cup Regatta (ABCup)  is open, upon invitation, to the alumni of some of the best-known US and European business schools. The ABC is supervised by the Alumni Business Cup Association, a non profit organization registered under the French law.

The crews usually comprise 6 to 8 persons (in 2015 and 2016,  only 4 to 5 persons and smaller sport boats) , 66% of each crew, including the skipper and the most experienced sailor onbard, must be alumni, faculty or students (no hired guns). Families and friends most welcome.

Each year since 1992, during 3 days of intense but congenial competition, beginners as well as experienced hands defend their banners at sea and on shore.