Boats - J80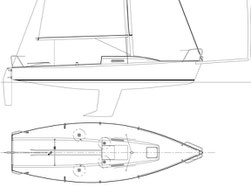 Its huge asymetric spinnaker can pull the J80 at 6 knots under a faint breeze of 5 knots. 2-digit speeds are reached as soon as the wind speed exceeds 12 knots. The J80 is beautiful to helm, super sensitive and manoeuvrable, and rewarding to crew!
J80s are usually crewed by 4 or 5 (Note the 338kg J80 Class limitation rule will not apply to the ABCup).
A wide range of videos can be found on the internet showing best practices and tips on how to best handle the asymetric spinnaker. 
J80 is a user friendly racing machine which many of us have enjoyed sailing and which has passed the test with our most demanding ABCup skippers and crews.
The fleet will be limited to 9 boats.