Onshore activities (see photos).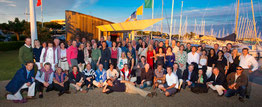 Cocktails, dinner parties, onshore contests, award ceremony...
The nice weather forecasted in Luguria from 17 to 20th May allowed a number of cocktails and dinner parties to take place outdoor. Furthermore non-sailing partners benefitted from perfect conditions to visit the local touristic jewels (Portofino, CinqueTerre etc.).